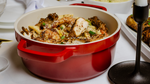 Serving 4 | Cook Time: 25 mins | Prep time 15 mins
Are you craving something creamy, rich, spicy and cheesy? This quick and easy recipe is the perfect fuse of everything in your pantry. We aim to make our recipes simple and delicious. Try our creamy Rasta Pasta featuring Flaev Jerk Caribbean style chicken, shrimp and bell peppers. 
This Caribbean inspired dish is a flavourful addition to your recipe repertoire. Have a flavourful meal prepared in less than 30 minutes with little effort.
Ingredients
1 lb. penne pasta

1 lb. Raw tiger shrimp

3 boneless skinless chicken breasts

3-4 tbsp Flaev Jerk Seasoning

2 tbsp extra-virgin olive oil

2 tbsp unsalted butter

1 green, red, orange bell peppers, sliced

1-3 sliced green onion

3 cloves of garlic, minced

¾ chopped onion

1 ½ cup heavy cream

½ cup coconut milk

1 ½ cup grated parmesan cheese

 https://www.youtube.com/watch?v=H9DL8kKytm8&t=13s
Directions
Cook pasta in salted water according to package instructions until al dente.
Prep the vegetables; slice bell peppers, onions and mince garlic.
Clean and season chicken and tiger shrimp (or protein of choice) with Flaev Jerk seasoning.
Add 2 tbsp extra virgin olive oil and 1 tbsp of butter to heated pan
Cook chicken breast, slice and set aside. Cook shrimp for 3 - 4 minutes and set aside.
In the same pan, brown onions and garlic. Add sliced bell peppers, sauté and set aside.
Add 2 tbsp melted butter, 1/2 cup coconut milk, 1 ½heavy cream and 1 ½ tbsp Flaev Jerk seasoning and stir
Add grated parmesan cheese to sauce
Add cooked pasta, sautéed bell peppers, garlic and onions back into the pan and stir until coated
Add cooked chicken and shrimp
Optional: Garnish with chilli pepper, green onion and grated parmesan cheese
Serve and Enjoy!
Tips
Prefer your pasta creamier add more coconut milk or heavy cream 

Rasta Pasta can be spicy with the amount of jerk seasoning added. So if you do not like spice consider reducing the amount of seasoning 

Dairy-free Substitutions: coconut milk for heavy cream and extra virgin olive oil for butter