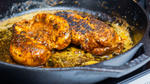 Serving 2 | Prep Time: 5 mins | Cook Time 12 mins
Our Blackened Cajun Chicken is the star of the show in this quick and easy recipe. Pan-seared cajun chicken cooked in butter for added flavour. This dish brings a restaurant-quality cajun chicken to your kitchen in no time. A simple dinner idea we hope you will try soon. This dish has a perfect balance of flavours while remaining super juicy with a bit of a kick. 
These juicy cajun-coated chicken breasts pair well with any side dish. Serve this dish with pan-seared caramelized brussel sprouts and homemade creamy mash potatoes. 
Ingredients 
2 boneless skinless chicken breasts
3 tbsp Flaev Cajun Seasoning
2 tbsp unsalted butter
1 tbsp Soy sauce
½ tbsp Worcestershire sauce
Directions 
Clean and season chicken with Flaev Cajun seasoning, soy sauce and Worcestershire sauce

Heat cast iron (or bottom heavy skillet) lightly brown butter 

Sear chicken for approximately 8 minutes or until fully cooked

Remove chicken from pan

Plate with a side of mash potatoes and brussel sprouts

Serve warm & Enjoy!